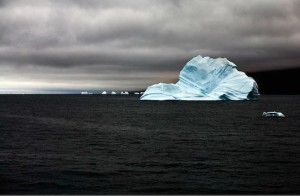 Is gender revealed by these works of art, and is there a distinctive eco-feminist approach to environmental concerns?
The phrase, "women's unique perspective" appeared in the 'Call for Entries' to WEAD members to submit works of art for the "Smaller Footprints" exhibition that addressed climate change. The urgent need for humanity to curtail its current scale of activities suggested by this theme is encapsulated in the phrase "smaller footprints". This metaphor provided the title for the exhibition, and it was also applied to the physical limits of the works of art in the exhibition. Each artist actualized a smaller footprint limiting her work to …" x …". The artists' willingness to accept this limitation models the reduction in the human use of resources that is required to avert the impending climate crisis.
Students and the public are invited to participate in this search for a consensus regarding the uniqueness of women's approaches to climate change as expressed in art. Visitors can conduct their own investigation by completing a "Gender Inquiry" form. The form presents four categories of art attributes: Subject, Style, Genre, and Attitude.
Linda Weintraub comments, "Whether or not a woman's perspective is revealed, this exhibition highlights the uniqueness of each contributor whose sensibilities, skills, and perspectives congeal into compelling works of art. At the same time, the exhibition transcends both gender and individuality because impending climate calamity impinges upon all humans and all forms of life. 'Smaller footprints' makes a 'large imprint' by addressing individuality, gender, and universality. In all these ways, the exhibition celebrates the twentieth anniversary of WEAD's distinguished history."
Friday, March 4, 2016 from 2 – 4 pm at MOAH:CEDAR.